The TV Sports Theme Bracket Challenge
In the spirit of March Madness and with the knowledge that I'm nothing if not a nerd for this sort of thing, not to mention there isn't much else on this site this time of year, I've decided to do a bracket competition of the best TV sports themes in North America.
The inspiration goes to Max J. Rosenthal of the Washington Post, whose tweet I took and ran with.
The "regions" roughly correspond to eras, though I've fudged a few to make each bracket more competitive.
Some ground rules:
The theme must have been used nationally, either in the U.S. or Canada. There are some great regional themes out there (I still miss the old NESN Red Sox music from a few years back), but just too many to fit into this bracket.
No reworked versions of "commercial" songs - i.e. no Carrie Underwood or Hank Williams Jr.
Different versions of the same theme are rolled into one.
The bracket is mostly limited to live sports broadcasts (i.e. no SportsCenter or anything like that), but I've had to add a couple older pregame themes to round the bracket out.
I tried to cover as many sports as possible, so a lot of good themes (college sports especially) were left out.
WWE is not a sport. Sorry.
So, without further ado, here goes....
Round of 64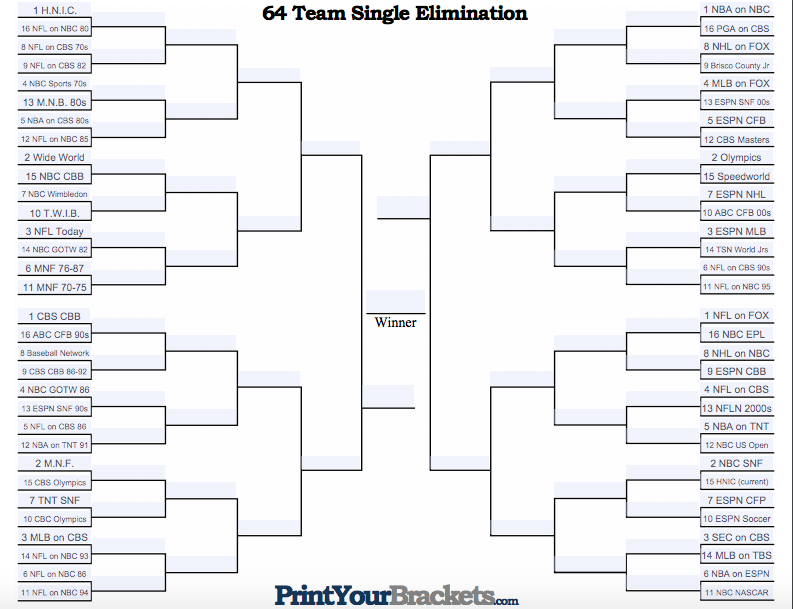 Voting for this round will end on Thursday, March 22 at 11 PM ET.
1985 and earlier
(1) Hockey Night in Canada vs. (16) NFL on NBC, 1980-81
The original Hockey Night in Canada theme has been used continuously in some way, shape or form since 1968. For years, it was used to open CBC's flagship NHL program and was once referred to as "Canada's second national anthem".
In 2008 when CBC announced it could not come to a financial arrangement with composer Dolores Claman to keep using the theme, a national scandal erupted. TSN ended up buying the rights to the theme and gave it its own treatment.
Its first round opponent? An over-the-top disco theme NBC used on their NFL coverage for 2 years. It....was a different time.


(2) Wide World of Sports vs. (15) NBC College Basketball
Everyone of a certain age knows the Wide World of Sports intro. The thrill of victory and the agony of defeat, that poor ski jumper, etc.
It's up against an NBC college basketball theme from the 80s that almost has a war-drum beat to it.
(3) The NFL Today vs. (14) NBC Game of the Week, early 1980s
You are looking live! CBS's NFL pregame theme is probably more memorable than any of their actual game themes from the era. Originally a piece of production music by Dutch composer Jack Trombey named "Horizontal Hold", CBS used it as late as 2002.
This NBC Game of the Week theme was used from 1978 to 1984.
(4) NBC Sports, 1970s vs. (13) ABC Monday Night Baseball, 1980s
In the 1970s, NBC used one piece of music for all their sports coverage. The hard-hitting piece by Kevin Gavin remains well-loved by those who remember it to this day.
ABC used this theme for Monday Night Baseball from 1983 to 1988.
(5) NBA on CBS, 1980s vs. (12) NFL on NBC, 1985
It might not have the same iconic status of John Tesh's NBA on NBC theme, but CBS's NBA music from 1982 to 1990 is still beloved by NBA fans of the era. The exceptionally well-done intro teases with Brent Musburger's voiceover only add to it.
This majestic theme, called "Send Them Victorious", was used for NBC's NFL coverage during the 1985 season as well as several NFL Films videos from the era.
(6) Monday Night Football, 1976-87 vs. (11) Monday Night Football, 1970-75
Here's a matchup of the two MNF themes from the glory years of Cosell, Gifford and Meredith. This one was used from 1970 to 1975, this one from 1976 to 1987.
(7) NBC Wimbledon vs. (10) This Week in Baseball
The only tennis music in the field, NBC used this opening theme to its Wimbledon coverage for decades until it lost the rights to ESPN.
Fun(?) fact: the closing theme music to This Week in Baseball (a production piece called "Gathering Crowds") was also heard on a game show called "Jackpot" and on ABC News in the mid-70s.


(8) NFL on CBS, early 1970s vs. (9) NFL on CBS, early 1980s
CBS's marching band theme called "Confidence" was used until around 1975.
A few years later, this theme debuted with CBS's total revamp of their NFL coverage in 1981 (from announcers to regionalization philosophy) and lasted 5 seasons.
---
---
1985-95
(1) CBS College Basketball vs. (16) ABC College Football, early 1990s
Da-da-dada-da-da-da-daaaa... The CBS college basketball theme, originally composed by Bob Christianson, has been synonymous with March Madness since 1993. It's been tweaked twice since then, but the impact on March remains the same.
It's up against ABC's college football theme from 1989 to 1993.
(2) Monday Night Football vs. (15) CBS Winter Olympics
Hank Williams Jr. aside, "Heavy Action" by Johnny Pearson has been the anthem for Monday Night Football since 1989.
CBS broadcast 3 Winter Olympics in the 1990s, and they used this Tamara Kline theme.
(3) MLB on CBS vs. (14) NFL on NBC, 1993
CBS was universally panned for its baseball coverage the 4 seasons it had it in the 1990s, but their wistful music theme was not the reason.
This NFL on NBC theme was only used for the 1993 season.
(4) NBC Game of the Week, late 1980s vs. (13) ESPN Sunday Night Football, 1990s
As NBC neared the end of its "7 decades of bringing you baseball's memories", they opened the Game of the Week with this upbeat theme music.
ESPN used this generic sounding theme music for their Sunday Night Football broadcasts in the early-mid 1990s. This intro is complete with some really awkward footage of jets flying around the World Trade Center.
(5) NFL on CBS, late 1980s vs. (12) NBA on TNT, early 1990s
Some people have called this "pots and pans" music, but to me this this CBS NFL theme has a very 80s pop vibe to it.
The best way to describe this TNT NBA theme and intro from the 1990s is, well.....90s.
(6) NFL on NBC, late 1980s vs. (11) NFL on NBC, 1994
This majestic theme from the late 1980s was one of the few NBC NFL pieces from the era to last longer than 1 year.
And this one was used only for the 1994 season but feels to me like it should have lasted longer.
(7) TNT Sunday Night Football, mid-1990s vs. (10) CBC Olympics
It seems very few people even remember TNT had the NFL in the 90s, but Edd Kalehoff wrote a ridiculously catchy theme for it. It was later re-used on TBS's college football coverage in the early 2000s.
It's up against the Canadian Olympic anthem, a theme written for CBC that dates back to 1988. In recent years it's been re-orchestrated for each Olympics in the traditional music styles of the host country.
(8) The Baseball Network vs. (9) CBS College Basketball, early 1990s
By all accounts, the Baseball Network (an ABC/NBC joint venture for the 1994 and 1995 seasons) was an unmitigated disaster. The theme was not.
It's long been overshadowed by the theme that replaced it, but CBS's college basketball theme from 1987 to 1992 is catchy on its own.
---
---
1995-2005
(1) NBA on NBC vs. (16) PGA Tour on CBS
When I first said I was going to do this bracket, a lot of people told me the NBA on NBC theme ("Roundball Rock" by John Tesh) was going to win it running away. They're probably right. (Bonus: see the John Tesh live version or Nelly's Heart of a Champion.)
Its first victim opponent is this theme by Yanni for CBS's PGA Tour coverage that was used from 2003 to 2015.
(2) Bugler's Dream (Olympic Fanfare) vs. (15) ESPN Speedworld
Originally written by Leo Arnaud for the 1968 Winter Olympics and updated by John Williams for the 1984 games in LA, Bugler's Dream has been a staple on Olympic broadcasts for decades, first on ABC and later on NBC.
Confession: I admit I know nothing about any type of auto racing...but if there was one theme racing fans wanted me to put on here, it was this one.
(3) MLB on ESPN vs. (14) TSN World Junior Hockey
The ESPN baseball theme has persisted, with several changes over the years, since they started televising MLB in 1990.
The World Junior Hockey Championship has become an institution in Canada thanks to TSN's wall-to-wall coverage over the week between Christmas and New Years. The theme, dating back to the early 90s, has a definite holiday vibe to it.
(4) MLB on FOX vs. (13) ESPN Sunday Night Football, 2000s
Fox used the same baseball theme from 1996 until they started using the NFL theme for everything in 2014. That move may have angered some baseball purists (what doesn't?), but it's still heard on Fox Sports' regional broadcasts.
ESPN's last Sunday Night Football theme, which I called the "siren theme", ran from 2002 to 2005.
(5) ESPN College Football, 1990s-2000s vs. (12) Masters on CBS
Like their baseball theme, ESPN's college football theme was completely redone multiple times while still keeping the same musical "signature".
It's up against a tradition unlike any other - the tinkling pianos of CBS's Masters theme.
(6) NFL on CBS, 1992-2002 vs. (11) NFL on NBC, 1995-1997
CBS's NFL theme from 1992 to 2002 (minus the time they didn't have NFL rights) was another one that underwent a total transformation in style over the years while keeping the same melody.
I once called NBC's last NFL theme before they lost the AFC to CBS "high school graduation" music.
(7) ESPN National Hockey Night vs. (10) ABC College Football, 1993-2006
The mid-late 90s marked the height of the NHL's popularity in the U.S., and this classic theme from ESPN remains a nostalgic favorite among hockey fans.
This energetic college football theme lasted until ABC Sports was merged into ESPN in 2006.
(8) NHL on FOX vs. (9) MLB on NBC, late 1990s
Hockey purists hated FOX's NHL coverage, with the glowing puck and robots and all that, but the theme music was iconic and is still used on regional broadcasts today.
An orchestral piece by Randy Edelman first written for a long-forgotten FOX drama called "The Adventures of Brisco County Jr." was picked up by NBC for their MLB playoff broadcasts in the late 1990s, and is still heard on NBC's Olympic coverage.
---
---
2005-present
(1) NFL on FOX vs. (16) Premier League on NBC
Da-da-DA-da-da-DA... Those instantly recognizable 6 notes begin the only theme music the FOX has used for the NFL since they started televising it in 1994. It's now used on all of FOX's other sports broadcasts too, see also the college version.
This stirring theme has been used since 2016 on NBC's Sunday Premier League coverage.
(2) NBC Sunday Night Football vs. (15) Hockey Night in Canada (current)
John Williams' war march has been heard on Sunday Night Football since it moved to NBC in 2006.
After CBC lost the rights to the iconic Hockey Night in Canada theme in 2008, it commissioned a nationwide contest for its replacement. This theme, called "Canadian Gold", won. Rogers bastardized modified it when they took over the rights in 2014.
(3) SEC on CBS vs. (14) MLB on TBS
The theme we all now know as the intro for CBS's SEC football coverage was actually first used on Super Bowl XXI in 1987. CBS decided to use it on college football instead of the NFL, and they've used it ever since.
Former Yes guitarist Trevor Rabin composed this theme for TBS's baseball playoff coverage.
(4) NFL on CBS vs. (13) Thursday Night Football (late 2000s)
"Posthumus Zone" by E.S. Posthumus has been CBS's NFL theme since 2003.
The first theme NFL Network used when they started televising live games in 2006 has an obvious NFL Films inspiration to it.
(5) NBA on TNT vs. (12) In Celebration of Man (NBC golf)
Trevor Rabin's NBA on TNT theme, which dates back to 2002, is obviously going for that Roundball Rock vibe. (Bonus: this supercut of all TNT NBA intros from the 2016 playoffs.)
Yanni's "In Celebration of Man" opened U.S. Open golf coverage on NBC until they lost the rights in 2015. They brought it back with a bagpipe flair for the British Open starting in 2016.
(6) NBA on ESPN vs. (11) NASCAR on NBC
The theme music for ABC and ESPN's NBA broadcasts since 2006 was written by Lisle Moore. (I personally like the closing theme.)
After just 3 years in use, this NBC NASCAR theme has already become a hit among racing fans.
(7) ESPN College Football Playoff vs. (10) ESPN International Soccer
Here's a matchup of 2 absolutely epic themes commissioned for ESPN. The first one was originally written for the College Football Playoff and has since expanded to the rest of their college football coverage.
The second was used on ESPN's World Cup soccer coverage in 2006, 2010 and 2014, as well as for Euro 2016.
(8) NHL on NBC vs. (9) ESPN College Basketball
NBC's NHL theme music has been used since 2006.
ESPN used a very energetic theme for college basketball from 2004 to 2017. The new one sounds way too bland to me.