The TV Sports Theme Bracket Challenge
Sweet 16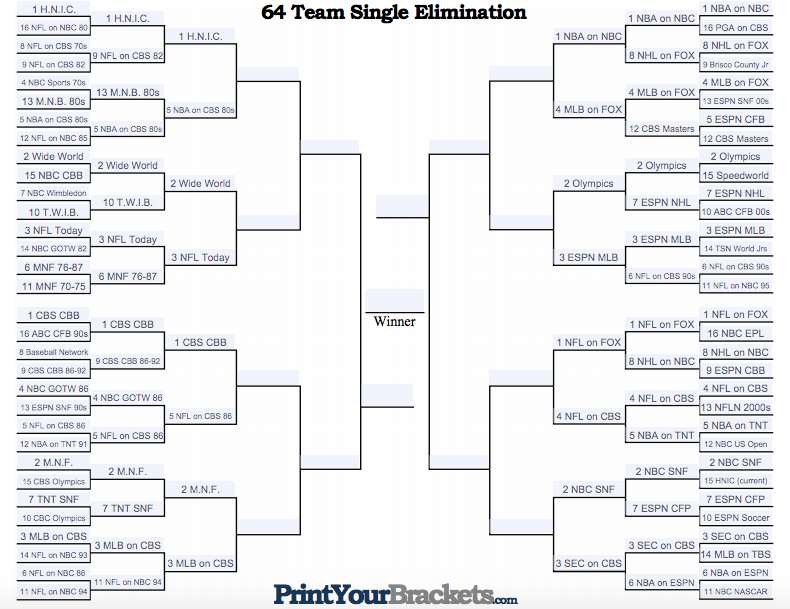 We're down to the sweet 16, after the first and second rounds of voting. Seems the seeding committee mostly got it right, as no seed worse than 5 has made it this far.
Voting for this round will end on Tuesday, March 27 at 11 PM ET.
1985 and earlier
(1) Hockey Night in Canada vs. (5) NBA on CBS, 1980s
Hockey Night in Canada held on to win 61% of the second round vote, and now faces its biggest challenge yet.
I had multiple people tell me the 1980s CBS NBA theme was woefully underseeded, and its 74% showing against Monday Night Baseball in round 2 may be proof.
(2) Wide World of Sports vs. (3) The NFL Today
The Agony of Defeat vs. You are Looking Live. Wide World of Sports beat out This Week in Baseball with 59% in round 2.
The classic NFL Today theme's win was easier, with 73% against the 80s Monday Night Football intro.
---
---
1985-95
(1) CBS College Basketball, current vs. (5) NFL on CBS, late 1980s
The March Madness theme's march continues on, defeating its predecessor theme by a 3-1 margin.
The "pots and pans" CBS NFL music from the late 80s is continuing its (to me) surprisingly strong run, with 56% against the NBC Game of the Week theme.
(2) Monday Night Football vs. (3) MLB on CBS
It was another easy win for the classic Monday Night Football music, taking 85% of the vote in both rounds so far.
The CBS MLB theme won a tight matchup of underrated 90s gems by 9 votes over the 1994 NFL on NBC intro.
---
---
1995-2005
(1) NBA on NBC vs. (4) MLB on FOX
People still like Roundball Rock. A lot.
The Masters may be a tradition unlike any other, but its piano theme lost in round 2 to the MLB on FOX theme 58-41%.
(2) Bugler's Dream (Olympic Fanfare) vs. (3) MLB on ESPN
These 2 won their matchups by a combined 9 votes. The Olympic Fanfare survived a scare from hockey fans to beat ESPN National Hockey Night by 7 votes.
The race between the ESPN baseball theme and the 90s NFL on CBS theme was actually a tie. To break it, I looked through the Polldaddy IP logs and found 7 people voted twice (you sneaky, sneaky bastards). After removing the duplicates, the ESPN MLB theme won by 2 votes.
---
---
2005-present
(1) NFL on FOX vs. (4) NFL on CBS
What's the soundtrack of your Sunday afternoon? The FOX NFL theme skated to a 72% win over the NHL on NBC theme in round 2.
I was very very wrong about either of the current NBA themes doing well in round 2. Both got exactly 22% of the vote. The NBA on TNT theme got walloped by the Posthumus Zone theme for the NFL on CBS.
(2) NBC Sunday Night Football vs. (3) SEC on CBS
John Williams' Sunday Night Football theme cruised to another easy victory in round 2.
Like I said above, the SEC on CBS/NBA on ESPN matchup was not as tough as I thought.