The TV Sports Theme Bracket Challenge
Elite 8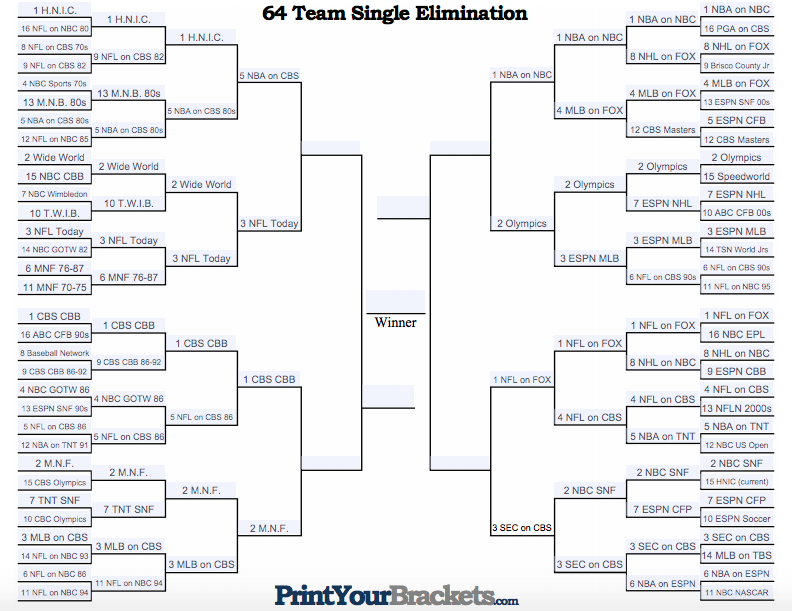 After the first, second and third rounds of voting, there are only 8 themes left in the battle for the best TV sports theme music of all time. Our first 1 seed went down in the sweet 16, as I guess some of you just didn't understand the greatness of the Hockey Night in Canada theme. Oh well.
Fun(?) fact: 4 of the elite 8 are from CBS, and none of them are the current NFL theme.
Voting for this round will end on Friday, March 29 at 11 PM ET.
1985 and earlier
(3) The NFL Today vs. (5) NBA on CBS, 1980s
No matter what happens, Brent Musburger wins this round. The Wide World of Sports theme crashed out like that ski jumper, losing 65-35% to the NFL Today.
After a back and forth battle over 2 days, the 1980s CBS NBA theme ended up defeating Hockey Night in Canada by 9 votes.
---
---
1985-95
(1) CBS College Basketball vs. (2) Monday Night Football
This bracket went just as expected, with both the CBS March Madness theme and Monday Night Football cruising to 75+% victories over their opponents in the sweet 16.
---
---
1995-2005
(1) NBA on NBC vs. (2) Bugler's Dream (Olympic Fanfare)
Ho-hum, another blowout victory for Roundball Rock.
After a scare in round 2, the John Williams Olympic fanfare had an easier time against the ESPN baseball theme, winning 59-41%.
---
---
2005-present
(1) NFL on FOX vs. (3) SEC on CBS
Like most ratings races on NFL Sunday afternoons, the NFL on FOX beat CBS in the music matchup too, by the score of 62-38%.
What turned out to be a battle royale between the Sunday Night Football and SEC on CBS themes went to the latter by 4 votes.