NFL TV Schedule and Maps: Week 5, 2017
---
October 8, 2017
All listings are unofficial and subject to change. Check back often for updates.
NATIONAL BROADCASTS
Thursday Night: New England @ Tampa Bay (CBS/NFLN)
Sunday Night: Kansas City @ Houston (NBC)
Monday Night: Minnesota @ Chicago (ESPN)
CBS SINGLE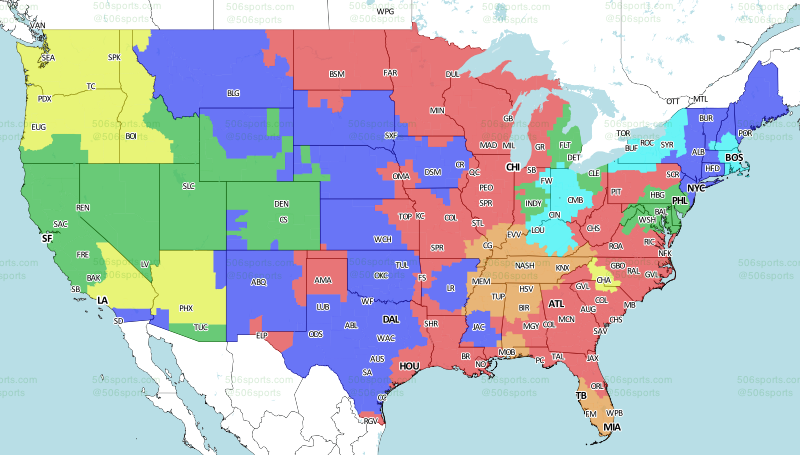 █ Anchorage AK | █ Fairbanks AK
█ Honolulu HI
█
Jacksonville @ Pittsburgh
Kevin Harlan, Rich Gannon
█
LA Chargers @ NY Giants*
Ian Eagle, Dan Fouts
█
Tennessee @ Miami
Andrew Catalon, James Lofton
█
Buffalo @ Cincinnati
Tom McCarthy, Steve Beuerlein, Steve Tasker
█
Baltimore @ Oakland (LATE)
Greg Gumbel, Trent Green
█
Seattle @ LA Rams (LATE)
Spero Dedes, Adam Archuleta
*NOTE: LA Chargers-NY Giants will air in Los Angeles on KCAL 9.
UPDATES:
Charlotte NC: BAL-OAK to SEA-LAR
Birmingham AL: JAX-PIT to TN-MIA
Idaho Falls ID: SEA-LAR to BAL-OAK
---
---
FOX EARLY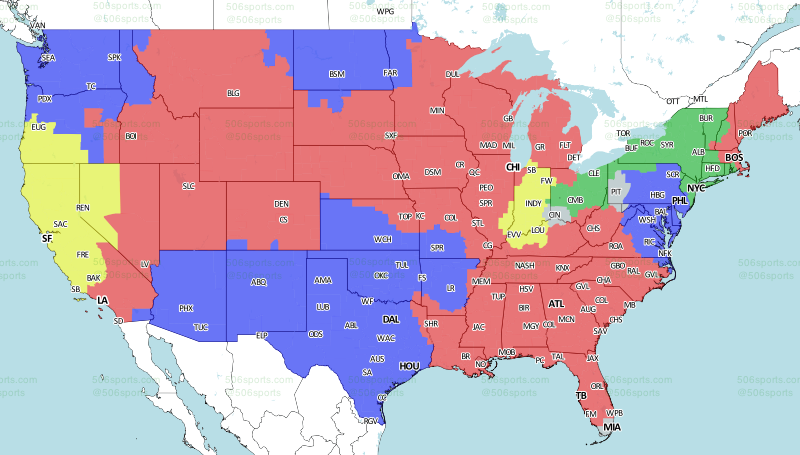 █ Anchorage AK | █ Fairbanks AK
█ Honolulu HI
█
Carolina @ Detroit
Kenny Albert, Charles Davis
█
Arizona @ Philadelphia
Chris Myers, Daryl Johnston
█
NY Jets @ Cleveland
Sam Rosen, Ronde Barber
█
San Francisco @ Indianapolis
Thom Brennaman, Chris Spielman
█
NO GAME due to local team at home on CBS
UPDATES:
Boston MA; all Maine: NYJ-CLE to CAR-DET
Wheeling WV: CAR-DET to NYJ-CLE
---
FOX LATE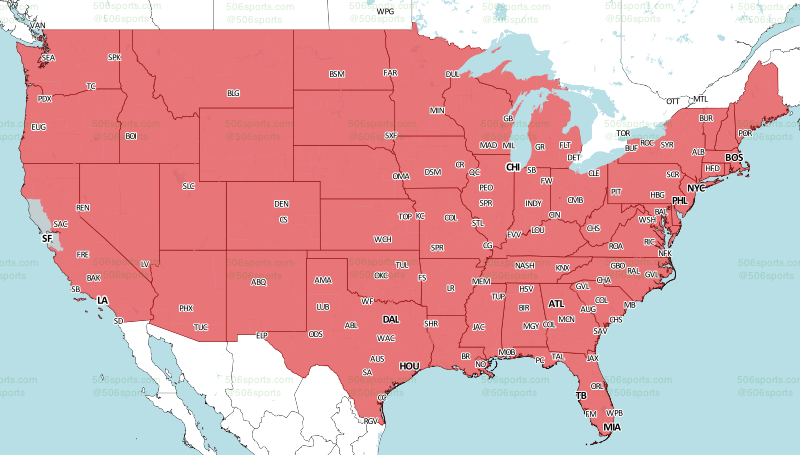 █ Anchorage AK | █ Fairbanks AK
█ Honolulu HI
█
Green Bay @ Dallas
Joe Buck, Troy Aikman
█
NO GAME due to local team at home on CBS
---