NFL TV Schedule and Maps: Week 5, 2020
---
October 11, 2020
All listings are unofficial and subject to change. Check back often for updates.
NATIONAL BROADCASTS
Thursday Night: Tampa Bay @ Chicago (FOX/NFLN)
Sunday Night: Minnesota @ Seattle (NBC)
Monday Night: LA Chargers @ New Orleans (ESPN; 8:15 PM ET)
Tuesday Night: Buffalo @ Tennessee (CBS; 7 PM ET; Tom McCarthy, Jay Feely)
CBS EARLY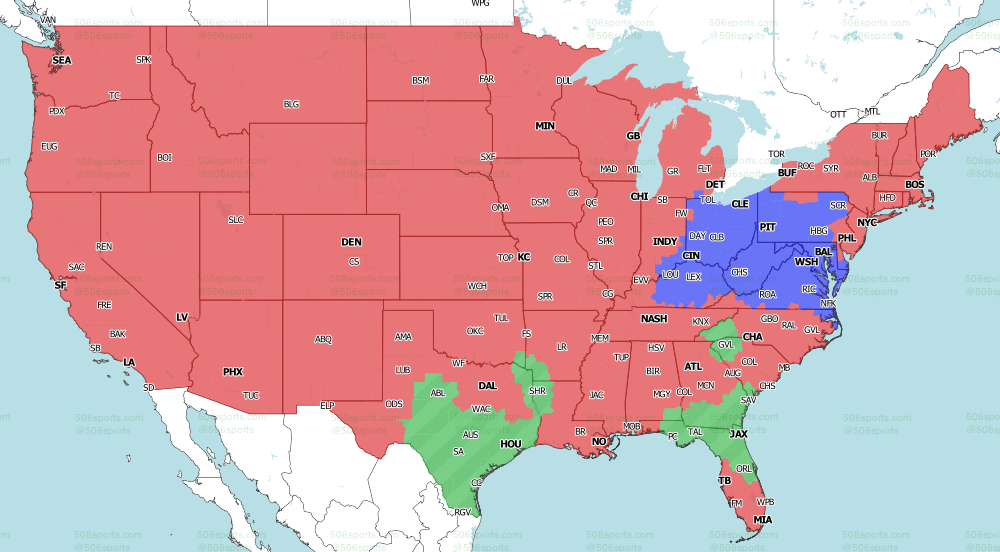 █ Anchorage
█ Fairbanks
█ Honolulu
█
Las Vegas @ Kansas City
Ian Eagle, Charles Davis
█
Cincinnati @ Baltimore
Greg Gumbel, Rich Gannon
█
Jacksonville @ Houston
Andrew Catalon, James Lofton
NOTE: The Buffalo-Tennessee game has been postponed and will be tentatively played Tuesday night.
UPDATES:
Erie PA; Bowling Green KY: LV-KC to CIN-BAL (Fri)
---
CBS LATE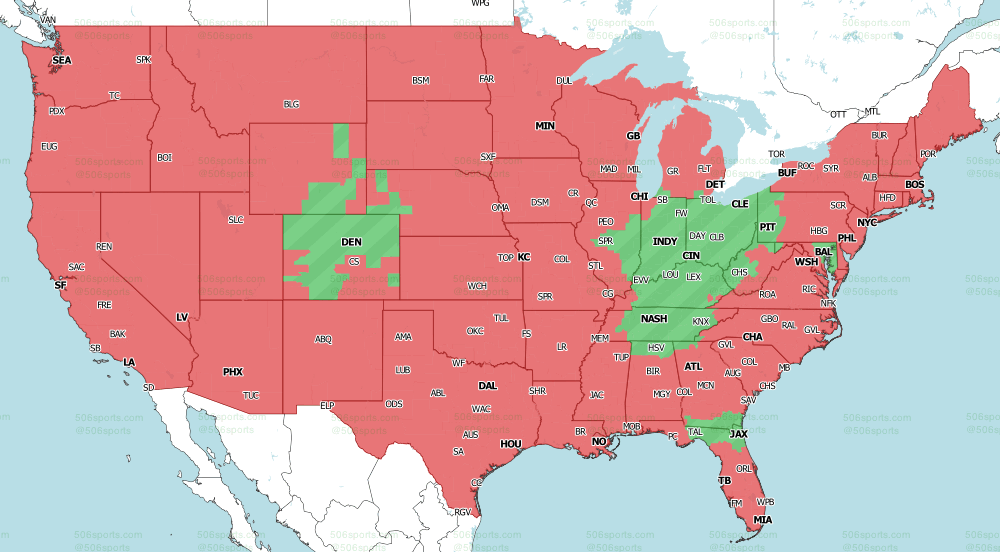 █ Anchorage
█ Fairbanks
█ Honolulu
█
NY Giants @ Dallas
Jim Nantz, Tony Romo
█
Indianapolis @ Cleveland
Spero Dedes, Adam Archuleta
NOTE: The Denver-New England game has been postponed. It had been scheduled for Monday night but it has been postponed further due to new COVID tests on the Patriots.
UPDATES:
Denver CO; Pittsburgh PA; Baltimore MD; Knoxville, Chattanooga and Jackson TN; Huntsville AL; Tallahassee FL: NYG-DAL to IND-CLE (Fri)
---
---
FOX SINGLE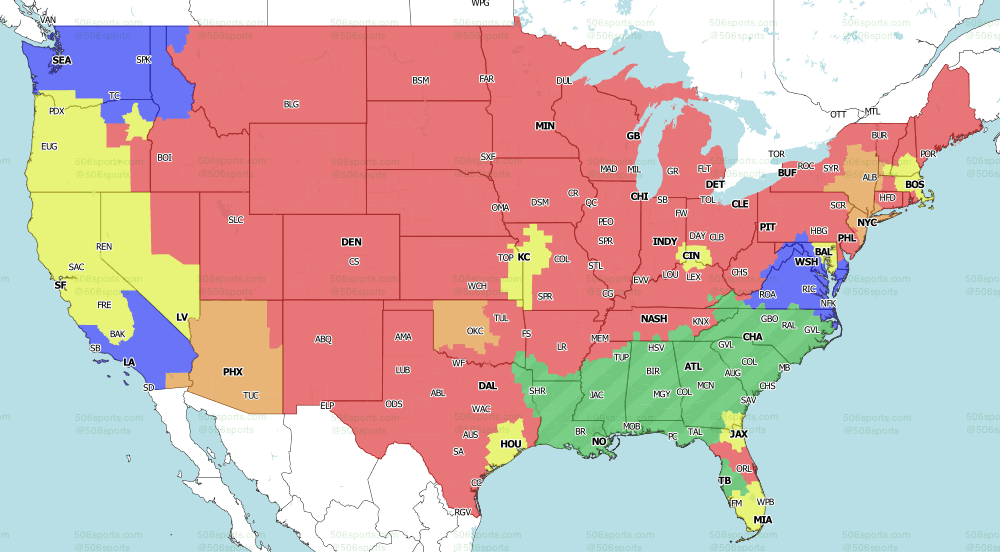 █ Anchorage
█ Fairbanks
█ Honolulu
█
Philadelphia @ Pittsburgh
Kenny Albert, Jonathan Vilma
█
LA Rams @ Washington
Brandon Gaudin, Daryl Johnston
█
Carolina @ Atlanta
Chris Myers, Brock Huard
█
Arizona @ NY Jets
Kevin Kugler, Chris Spielman
█
Miami @ San Francisco (LATE)
Adam Amin, Mark Schlereth
UPDATES:
Boston MA: PHI-PIT to MIA-SF (Sat)
Buffalo, Rochester and Syracuse NY; Nashville TN: MIA-SF to PHI-PIT (Fri)
---