NFL TV Schedule and Maps: Week 4, 2023
---
October 1, 2023
All listings are unofficial and subject to change. Check back often for updates.


NATIONAL BROADCASTS

Thursday Night: Detroit @ Green Bay (Amazon)
Sunday 9:30 AM ET: Atlanta vs Jacksonville in London (ESPN+ ; Chris Fowler, Louis Riddick, Dan Orlovsky)
Sunday Night: Kansas City @ NY Jets (NBC)
Monday Night: Seattle @ NY Giants (ESPN/ABC)

DET-GB will be simulcast on WJBK (FOX/2) Detroit, WGBA (NBC/26) Green Bay and WITI (FOX/6) Milwaukee.
ATL-JAX will be simulcast on WSB (ABC/2) Atlanta and WFOX (FOX/30) Jacksonville.
---
CBS SINGLE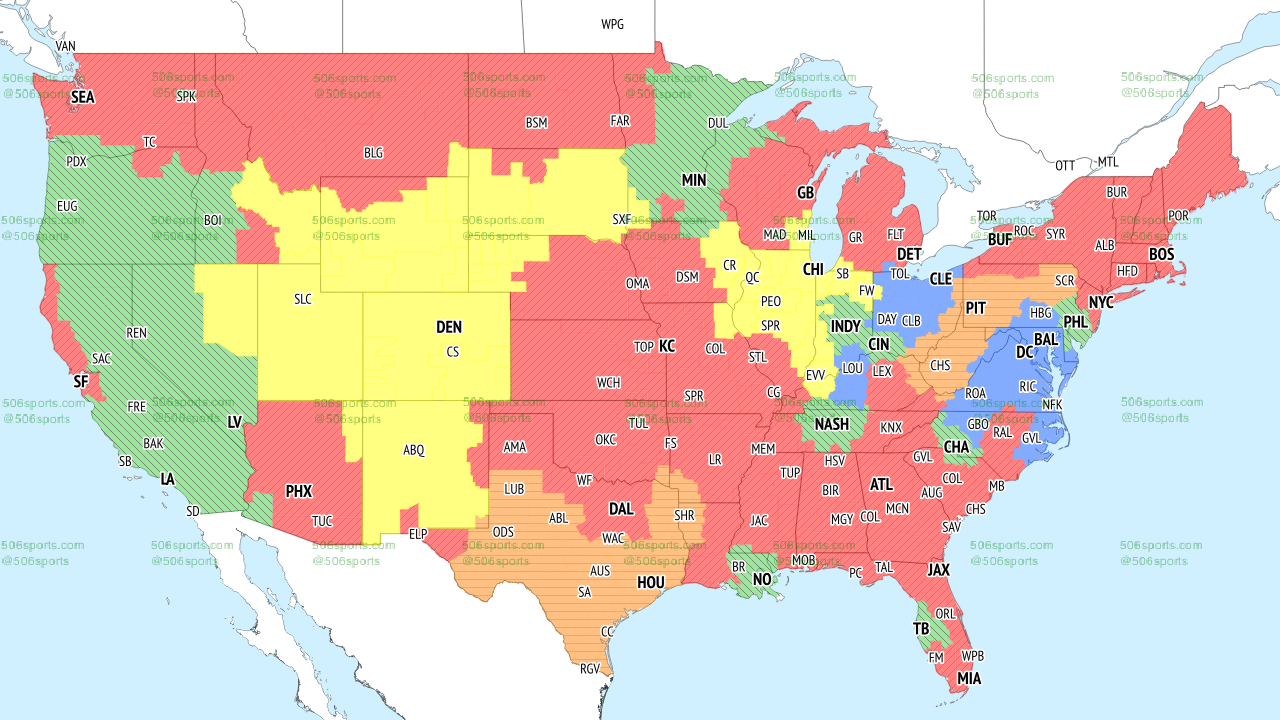 █ Alaska
█ Hawaii
█
Miami @ Buffalo
Jim Nantz, Tony Romo
█
Baltimore @ Cleveland
Ian Eagle, Charles Davis
█
Denver @ Chicago
Andrew Catalon, Tiki Barber, Matt Ryan
█
Pittsburgh @ Houston
Spero Dedes, Adam Archuleta
█
Las Vegas @ LA Chargers (LATE)
Kevin Harlan, Trent Green
UPDATES:
all MI stations; Green Bay and Wausau WI; Des Moines IA; Fargo ND; Mankato MN; Cape Girardeau and Kirksville MO; all MT stations: DEN-CHI to MIA-BUF (Thu)
Erie PA; Amarillo, Wichita Falls and Sherman TX: PIT-HOU to MIA-BUF (Thu)
Madison and La Crosse WI: DEN-CHI to MIA-BUF (Fri)
---
---
FOX EARLY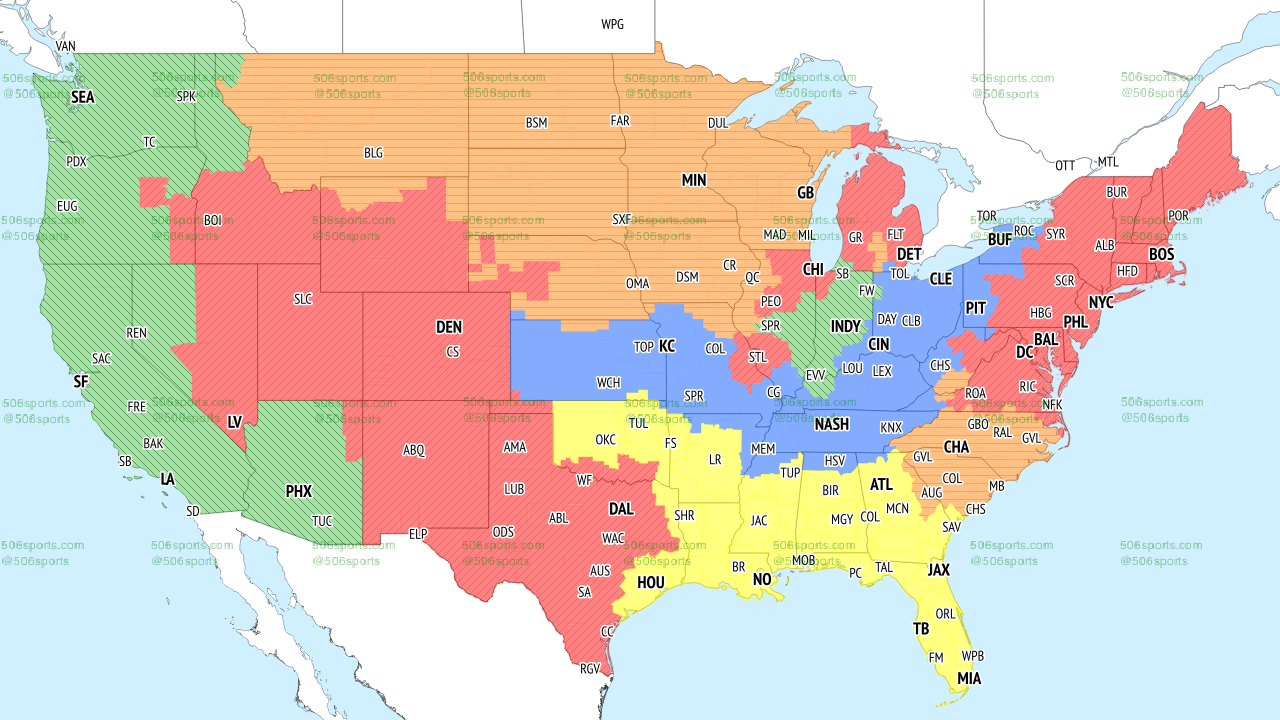 █ Alaska
█ Hawaii
█
Washington @ Philadelphia
Joe Davis, Daryl Johnston
█
Cincinnati @ Tennessee
Adam Amin, Mark Schlereth
█
LA Rams @ Indianapolis
Kenny Albert, Jonathan Vilma
█
Tampa Bay @ New Orleans
Chris Myers, Robert Smith
█
Minnesota @ Carolina
Alex Faust, Brady Quinn
UPDATES:
Oklahoma City and Tulsa OK; Fort Smith AR: WSH-PHI to TB-NO (Wed)
St. Louis MO: CIN-TN to WSH-PHI (Thu)
Lansing and Marquette MI: WSH-PHI to MIN-CAR (Thu)
Anchorage AK: LAR-IND to MIN-CAR (Thu)
---
FOX LATE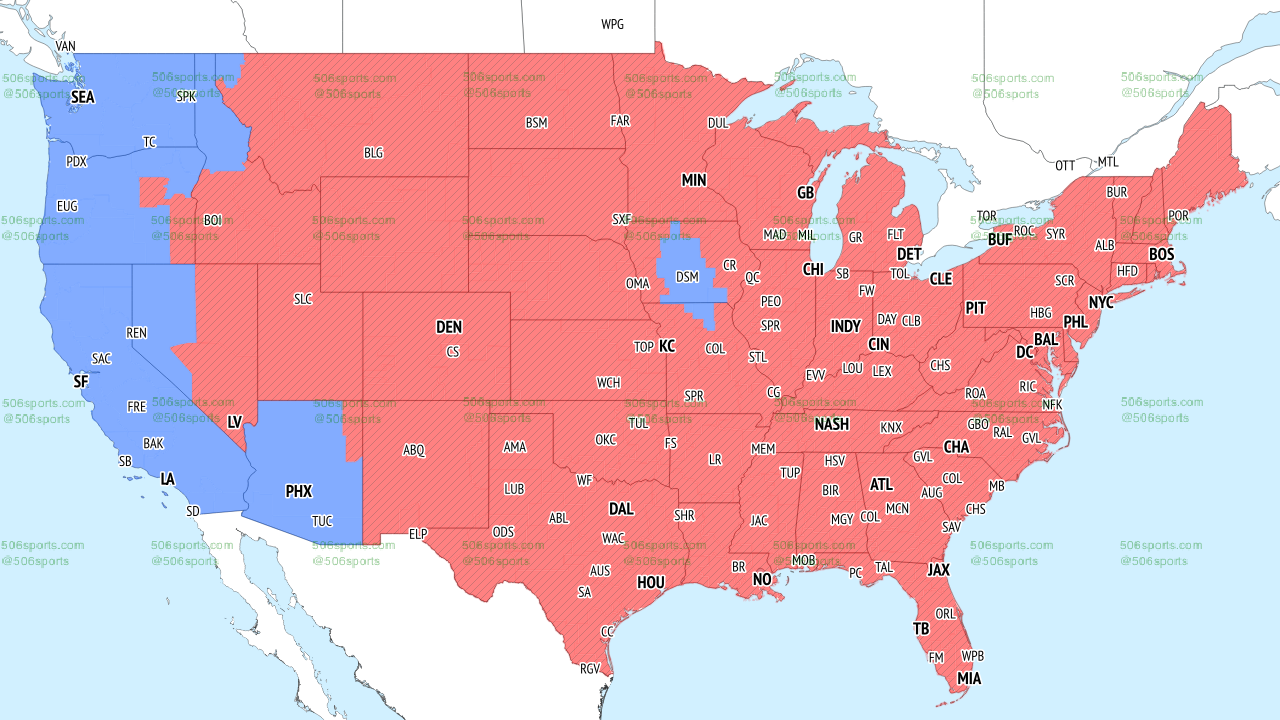 █ Alaska
█ Hawaii
█
New England @ Dallas
Kevin Burkhardt, Greg Olsen
█
Arizona @ San Francisco
Kevin Kugler, Mark Sanchez
UPDATES:
Des Moines and Ottumwa IA: NE-DAL to AZ-SF (Fri)
---